Nurse Aide Training Program
This 120-hour course consists of classroom and clinical hours to prepare students to care for the elderly and more: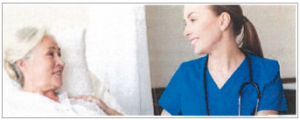 • Personal Care
• Basic Nursing Skills
• Safety and Medical Emergencies
• Infection Control measure
• Anatomy, physiology and medical terminologies
Following successful completion of the training course, students will be eligible to sit for the written and the skills competency testing. Upon passing both portions of the exam, the student will be placed on the PA Nurse Aide Registry.
You may view or download an Application Packet by clicking the appropriate link at the bottom of this page, or call the Adult Education Department to receive information on upcoming classes and how reimbursement or funding for training and testing is possible!
Clearances/forms/applications may take 6 to 8 weeks to complete and must be received before start of the first class.
Need Financial Assistance?
You may qualify for a program offered through The PA CareerLink (570-387-6288)

---
Enrollment Requirements
✓ Complete CMAVTS Application Packet
✓ Completed medical history and physical examination with evidence that the applicant is free of communicable disease and lifting restrictions.
✓ 2 step PPD or Chest X-ray with negative results
✓ PA State Police Criminal History Clearance
✓ FBI background check if you have not been a PA resident for the last two consecutive years.
✓ All students are required to wear navy blue scrubs, white leather shoes and have a watch with a second hand.
Forms/Schedules
* Spring 2024 Schedule
* Application Packet
* Policy Manual and Signature page